How To Get Disney+ Cheap Without VPN
Hello, OTT lovers! Today I will show how you can get up to 85% discount on your Disney Plus subscription. If you want the cheapest price to enjoy Disney +, you have come to the right place. Using Gamsgo, you can get Disney+ at the lowest price without breaking the bank. With instant access and no hustle and bustle of a VPN.
You prefer watching a Video over reading this Blog? I got you covered on my YouTube Channel
🙂
Check out my Video: 
🎬 How to Get Disney Plus cheap - also Netflix, Youtube Premium, Spotify & More | Gamsgo Review 2023!
Disney Plus
is one of the best OTT platforms for streaming a variety of content that you admire. Disney+ offers content from Disney franchises, including classic Disney kids and family movies, Pixar, Marvel, Star Wars, National Geographic, and more. There is a lot to enjoy, and people of every age can enjoy it. If kids are in the house, Disney+ offers child-friendly content like animated movies and series like Frozen, The Incredibles, Turning Red, etc. You can watch your favorite movies and TV shows. It also has all-time-grossing movies like Avatar, the Avengers film series, and many more.
Usually, Disney + costs 9 € monthly or 90 € for a one-year plan if you pay it in one shot. The price is according to Germany. While in America, it costs $7.99 per month or $79.99 per year with ads, Disney+ Premium costs $10.99 per month or $109.99 per year with no ads.
The platform where we get the cheapest price for all OTT streaming services is Gamsgo.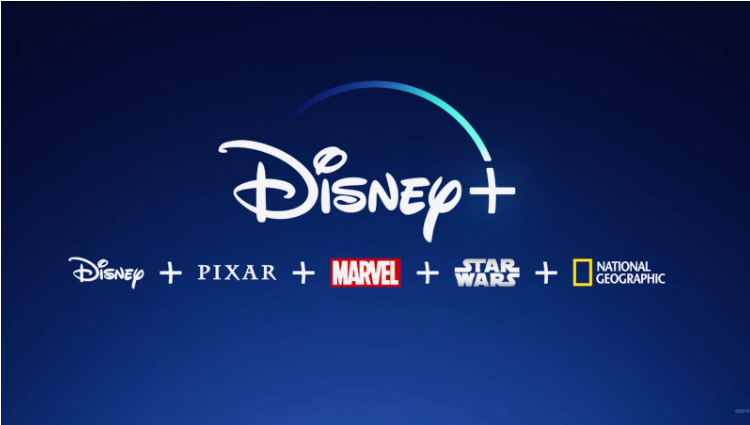 The cheapest way to get a Disney Plus subscription
GamsGo is a website allowing users to buy shared premium subscriptions to streaming services like Netflix, Spotify, YouTube Premium (no ads and able to play YouTube Videos in background), Disney Plus, HBO Max, Tidal, Amazon Prime, Tidal, Crunchyroll, Deezer Family and even Microsoft Office 365 at the lowest price. This legal website provides different streaming services at affordable prices. It has been working for four years (2019), and I have used it since 2022. I have personally outstanding experience and have never had any issues. It is beneficial and provides incredible support.

And even though it is mainly shared accounts, don´t worry, no one will see your data or movies watched. I tried it! Actually I tried every single Subscription that GamGo is providing.

Here you find some of the current subscription offers and their prices. Please note: GamsGo offers more cheap subscriptions then shown on this screenshot, but it will give you some good idea about the amazingly discounted prices. Also prices can change over time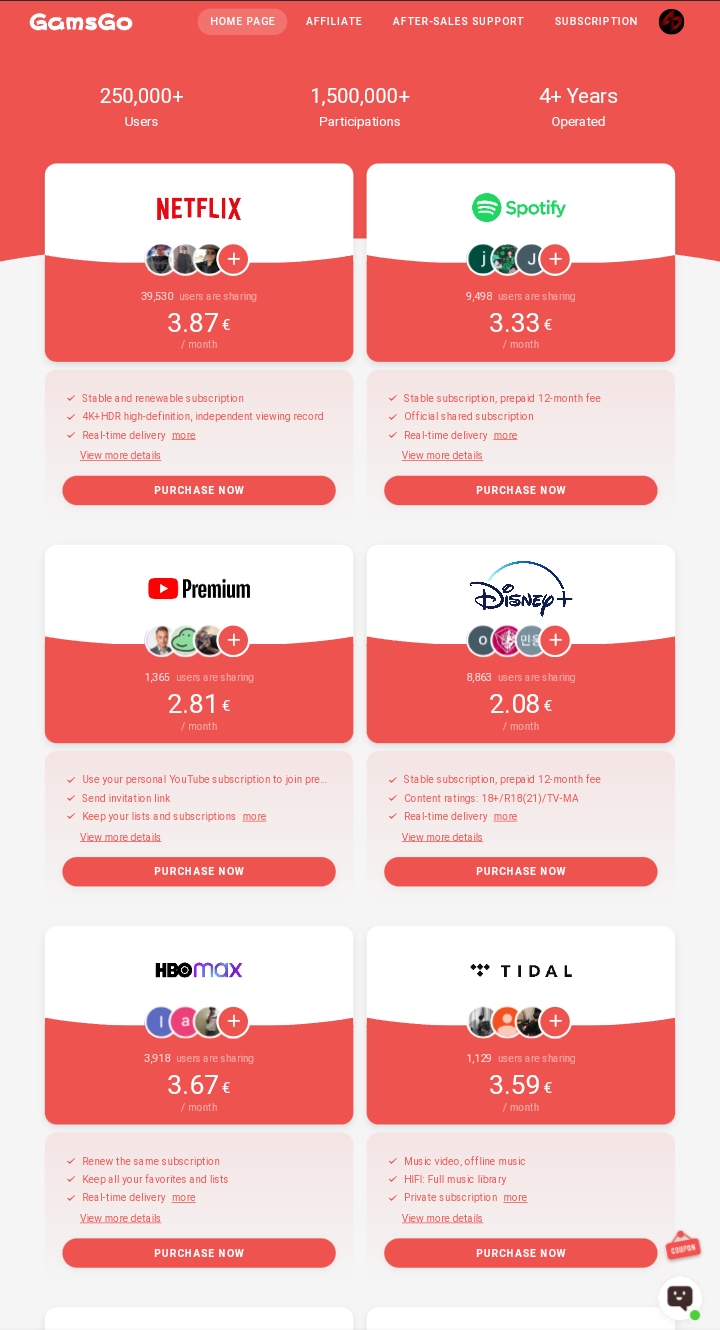 To get the cheapest rate for your DisneyPlus Subscription, follow these instructions:

1. Go to the GamesGo website and click on the Disney +  subscription. You can get a Disney+ subscription for just 2.08 Euros per month or 24.99 Euros per year.

2. Enter the promo code "GREAT", you can get an additional 2% discount on it (and 4% for your Netflix Subscription), and finally, you will get an annual subscription for 24.49 euros. As you will see, the standard price for the yearly plan is around 90 Euros, but with GamsGo, you can get in for about 24.5 Euros (Prices as of October 2023)
3. Click on "Go Payments" and select your preferred payment method. The best thing is seeing different payment methods like GPay, Visa, Mastercard, and many more. And for all my Crypto Enthusiats: You can even pay with Cryptocurrencies such as Tether & more.

This website has been running for over four years, has 1.5 million participants, and over 250k users.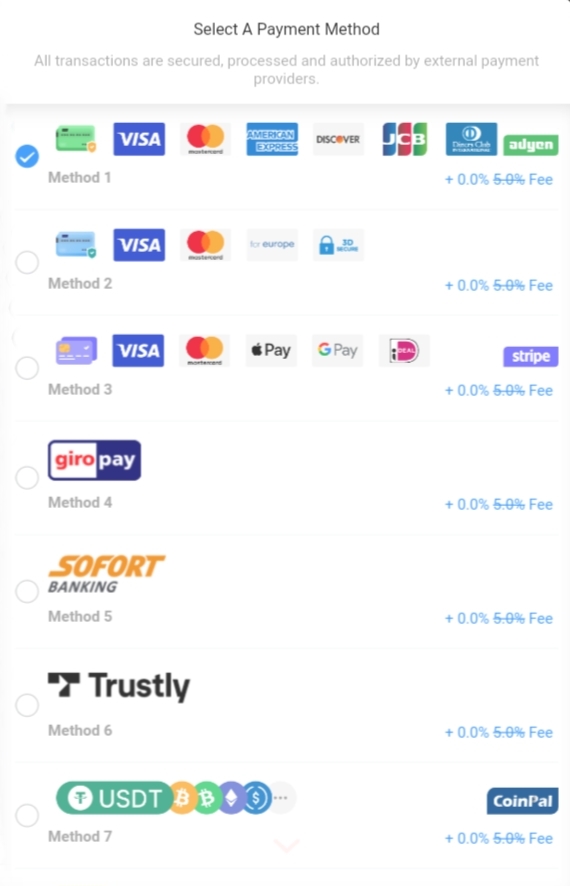 4. After purchasing the subscription, you will get an email and password on the Dashboard for your Disney Plus login. If for whatever reasons the password is not working, you can also reset it anytime with just one click.

5. Please note that your subscriptions which you bought via GamesGo will NEVER automatically extend. Few days before your paid DisneyPlus subscription end you will get an E-Mail asking you, if you wanna extend.
GamsGo Review: Benefits of Using GamsGo in a Nutshell
I have experienced the best service at GamsGo. The features that I liked the most are the following:
Conclusion - My GamsGo Experiences:
I came across Gamsgo in 2022, before I have been using GeoArbitrage with my activated VPN. However, as it
doesn´t always work with VPNs, especially if you are using free onces, they also often come with some (temporary) restrictions.
After reviewing GamsGo & getting in touch with the team behind it, I decided to give it a try. And it worked so smoothly since then!
The support is always quick in responding. Less than a minute. Wow! No matter what day and time I wrote them.
Also I love that they cover actually all OTT platforms. So I can have one cheap premium subscription provider and get all my subscriptions from them.  It provides mostly streaming service subscriptions at a cheaper rate. As of now they not only offer DisneyPlus, but also Netflix, Spotify, YouTube Premium, HBO Max, Tidal, Amazon Prime, Tidal, Crunchyroll for all Anime Lovers, Deezer Premium and even Microsoft Office 365.

For me: Gamsgo is the best website for subscriptions to any OTT streaming service, where we can save up to 85%. It's a safe and legal website operating for four years already.
If you want to give GamsGo a try.

Don´t forget to use the promo code "GREAT" for even more savings. 🙂

And look it´s not only me who had so great experiences with Gamsgo. But many many thousand of people too.

So try GamsGo today and let me know in the comments how it´s working for you.